This is the 7th and last part of the Affiliate Marketing Interview series with Alexi Neocleous & Sean Rasmussen. Today we are speaking about a topic that I learned from a gentleman called Napoleon Hill. Let's talk about overcoming the self imposed roadblocks that stand in the way of your success. We call them Self Limiting Beliefs.
Eliminating Your Roadblocks – Part 7 of 7
The only "real" obstacle people have on the road to success are the self imposed roadblocks in their mind. Some call them excuses. Some call them bad luck. I call them Self Limiting Beliefs.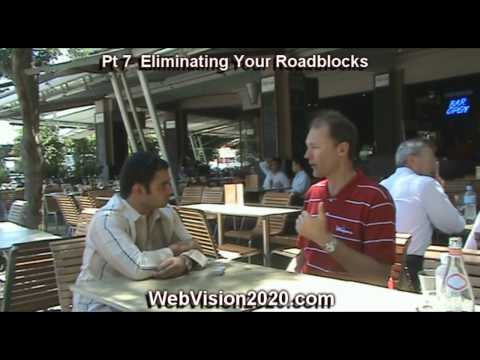 Here are some of the topics covered in the above video with Alexi and Sean.
How to eliminate the roadblocks to your success.
What's been stopping you all your life.
The power of leverage.
Why the biggest roadblock is the first sale.
Time To Think And Grow Rich
Rather than finish off with part 7 of Replacing Your Income Online, I will send you on a journey of discovery through your mind. Napoleon Hill wrote a book that is seen as the bible of self improvement: Think And Grow Rich. You can download it free from my website and I also have MP3 versions of the chapters. The links are below. Enjoy!
More About Napoleon Hill
You can also read more about Napoleon Hill and his classic book Think And Grow Rich in this blog. My blog was themed and built upon the principles of Napoleon Hill's timeless work.
I hope you enjoyed the 7 part affiliate marketing series with Alexi Neocleous and myself. Log in to the forum or go back to the blogging webinars to learn more about the topics of this series.
I wish you the best of success in life and online.
Sean Rasmussen
Success Communicator
Aussie Internet Marketer © 2004 – 2010