Bruce Springsteen did his first ever show in Perth, Western Australia, on 5th February 2014.
It was worth the wait. Every seat in the house was taken and every eye (and ear) was on the stage. At one stage I turned around and looked at the crowd, during Bruce's acoustic version of Thunder Road. It was mesmerizing to see 1 person (Bruce) have 7000 people's full attention.
It was without any doubt the best concert I have been to in my life. The 2nd best concert was on 9th June 1985, in Gothenburg Sweden, on Bruce Sprinsteen's Born in the USA tour. Back in 1985, 62,000 fans rocked the foundations of the football stadium (and seriously damaged them). 29 years later, The Boss and his band, literally knocked my socks off again!
Bruce has got better with age, like a good bottle of vintage wine!
Bruce Springsteen & The E-Street Band Song List
Perth, 5th February 2014
I have compiled this list with a short commentary for any stand-out action during that song. Being a devoted fan since 1978, I know 99% of Bruce's songs so they stick in my mind when I hear the first few notes.
Frankie Fell In Love
High Hopes (Tom Morello plays guitar solo with his teeth)
Just Like Fire Would
Badlands
Hungry Heart (Bruce crowd surfs about 20-30 meters through audience)
The E Street Shuffle (Brilliant horn section)
Kitty's Back
Wrecking Ball
Death To My Hometown
The River
Heaven's Wall (This song was started by mistake by the percussionist. Bruce stopped it, laughed and says: "OK, let's play that one then")
American Skin (41 Shots)
Because The Night
She's The One
Working On The Highway (Bruce accepts a beer from an attendee as he walks among the crowd. He proceeds to skull the beer, literally bringing the house down. There's no better way to build rapport with an Aussie audience!)
Darlington County (Bruce walks among crowd and says: "I forgot the lyrics!". It was only a few lines.)
Shackled and Drawn
Waitin' on a Sunny Day (Bruce pulls young girl from crowd and let's her sing the chorus)
For You (Bruce plays solo version on piano after request from a crowd member)
Ghost of Tom Joad (Mind-blowing guitar solo work by Tom Morello)
The Rising
Ramrod (Stevie's Angels are invited onto stage, out of the crowd, and dance on stage)
Born To Run
Dancing In The Dark (Lady dances with Bruce, then plays the guitar after she tells him she can play)
Tenth Avenue Freeze Out (Tribute to Clarence Clemons)
Shout
Thunder Road (Acoustic version)
Stevie's Angels Join The Band
Stevie's Angels come on stage during Ramrod.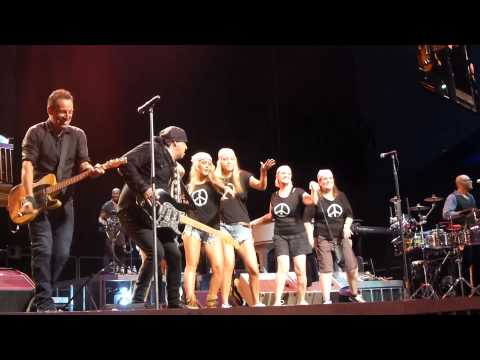 Personal Highlights
The personal concert highs for me, as a Bruce Springsteen fan for the past 36 years, are listed below. These are the stand-out highlights that are better than good. Keep in mind, there was not a bad moment during the entire concert; not one minute of my mind wandering to the outside world. It was the perfect "reality escape" for 3 hours. Normally I will get bored at some stage at a concert. It is pretty hard to capture someones' full attention for 2 hours, let alone 3!
Bruce Springsteen
He has the charisma to make you wish he was a sibling, a son, a father, and some women surely wish: their lover. He has that ability to make you feel welcome. The best part: he's down to earth. I'd like to name him an Honorary Aussie when he's on our shores.
Bruce Highlights:
Crowd surfing through Hungry Heart. I had a smile from ear to ear and a happy tear (or 2) in my eyes.
Telling us "I forgot the lyrics" when walking in the crowd during Darlington County. It didn't stop him though. Bruce almost sang the words.
Skulling a full beer, handed to him by a crowd member during Working On The Highway. This brought the house down!
Getting a young girl, maybe 12 year's old, out of the crowd to sing the chorus of Waitin' on a Sunny Day.
Taking a sign from a crowd member that said "I came for you" and said: "Roy, can I have the piano for a minute?". Bruce proceeded to play a solo piano version of For You. I didn't know Bruce Springsteen has a voice like that. Seriously, I have never heard him sing in that style and it was good!
Dancing In The Dark with a lady from the crowd. She kept talking to him and must have said: "I can play all your songs" or something along those lines. Springsteen gave her his acoustic guitar, gave her a que and she joined the band for the remainder of the song.
The same lady, from Dancing In The Dark, received a kiss on the cheek from Bruce. She grabbed him around the back of his head with both hands, pulled him close and gave him a massive kiss on the lips! The look on Springsteen's face was classic. Definitely a Kodak moment!
The E-Street Band
I don't know too many bands that can afford to tour with 17 band members. Full credit to The Boss for having 3 lead guitarists, 2 drummers, a 5 piece horn section (and the rest).
As a Springsteen fan in the 80's I would get all the solo work from the E-Street Band members.
I knew all the names of the band members, past and present, and bought their solo albums. The E-Street Band is a master piece of Rock and Roll history for the past 40 years.
Steven Van Zandt – Guitar
In the 80's I followed Steven Van Zandt's career as Little Steven. I have several of his solo albums. I recall him as very outspoken in his lyrics and a passionate person.
Steve was behind the "Sun City" protest song and to me, he was the real Bob Geldof of the 80's.
Steven Van Zandt is a character and a half.
Due to Little Steven and his Jersey Shore sound, I discovered Southside Johnny & The Asbury Jukes, whom I am also a great fan of.
Known also for his acting brilliant work in The Sopranos and Lilyhammer, Steven is the ultimate entertainer. To me, Steven Van Zandt is as much part of the Springsteen sound as Bruce Springsteen himself.
Tom Morello
Tom Morello's solo guitar breaks, especially in Ghost of Tom Joad, were mind-bogglingly brilliant! I am a fan of the Audioslave guitar sound and welcome his work in the E-Street Band. I compare his addition to the E-Street Band with Joe Walsh joining The Eagles in 1975.
I imagine many old-school die-hard Bruce Fans would have objected to Tom's addition, but you can clearly hear the fresh edge he add to the sound. Tom Morello: You are a class act!
Max Weinberg – Drums
Max Weinberg seemed to me to be the epicenter of the band. Sure, he was positioned in the middle, but I kept coming back to that solid steady drum beat that carries the band. As a fan, I noticed him especially for that reason.
Jake Clemons – Saxophone
Maybe it's my sentimentality for Clarence "Big Man" Clemons, who recently passed away, but the presence of Jake Clemons was noticeable mostly at all times on stage. His saxophone work sounded just like his uncle Clarence's – and that says something!
The Real Stand-Out
The best part for me, was the timelessness of 3 hours with Bruce Springsteen and The E-Street Band. For 3 full hours, I was in the moment. It was all about "now" and true to Bruce Springsteen's skill to perform and entertain, he sure acts as if "only now matters".
To bless people with the ability to switch off from everyday life and just be "in the moment" with Bruce Springsteen and The E-Street Band, well, that is a gift that most people deserve and I'm sure they will gladly pay for it too.
Songs and Albums
These are the albums the songs came from on the night: Perth Arena 5th February 2014 in Perth
Greetings from Asbury Park, N.J. – 1972
Springsteen's first studio album.
Bruce played this song as a request from a crowd member.
The Wild, the Innocent & the E Street Shuffle – 1973
Springsteen's 2nd album.
The E Street Shuffle
Kitty's Back
Born to Run – 1975
Possibly his best album.
Thunder Road
Tenth Avenue Freeze Out
Born To Run
She's The One
Darkness on the Edge of Town – 1978
Brilliant sounds. marvelous guitar riffs. One of Bruce's best albums.
Badlands
Because The Night (was rejected from the album and given to Patti Smith Band)
The River – 1980
Double album. A classic.
The River
Hungry Heart
Ramrod
Born in the U.S.A. – 1984
Possibly Bruce's best selling album.
Working On The Highway
Darlington County
Dancing In The Dark
The Rising – 2002
Post 9/11 music from Bruce.
The Rising
Waitin' on a Sunny Day
Wrecking Ball – 2012
Named "Best Album of the Year" by some critics.
Wrecking Ball
Death To My Hometown
Shackled and Drawn
High Hopes – 2014
Latest album.
High Hopes
American Skin (41 Shots)
Just Like Fire Would
Frankie Fell In Love
Heaven's Wall
The Ghost of Tom Joad (also on the album: The Ghost of Tom Joad – 1995)
My Own Memories of Bruce
My big brother introduced me to the phenomena of Bruce Springsteen some time around 1976.
He had this vinyl album called Born To Run from 1975.
It had this bearded dude and an African American sax player on the cover. They looked like best buddies and I got to hear the album plenty.
In 1978 I was listening to my favourite radio show (in Sweden). The DJ did something very unusual. He played 3 songs from the same artist in a 1 hour timeslot.
He said it was an "underground New Jersey artist – Bruce Springsteen" who had a great following and was known for his live shows.
I recorded the radio show on cassette tape and listened to it over and over again. These were the 3 songs:
Kitty's Back
Candy's Room
Prove it all Night
Imagine my joy when, 36 years later, the band starts playing Kitty's Back! My eyes welled up with tears of joy. I was overwhelmed with happiness. The average fan of Bruce Springsteen probably doesn't know the old albums from 1972, 1973. To me that sound built Springsteen with guys like Steven Van Zandt with his Jersey Shore sound.
Of course, the die-hard fans know all the albums, needless to say.
The years of 1975 – 1980, in my opinion was the best of the best for Springsteen. Born in the USA, in 1984, was the cream on the cake, that would normally finish off any artist, but decades later Bruce Springsteen carries on bigger and, arguably, better than ever.
And let me ask you a question: What musician would get away with a cover version of his own song and make it bigger and better? Especially when it is a Grammy award winning tune. The song I refer to is The Ghost of Tom Joad.
2014 Springsteen Aussie & NZ Tour Dates
Feb 5 Perth Arena
Feb 7 Perth Arena
Feb 8 Perth Arena
Feb 11 Adelaide Entertainment Centre
Feb 12 Adelaide Entertainment Centre
Feb 15 AAMI Park, Melbourne
Feb 16 AAMI Park, Melbourne
Feb 19 Allphones Arena, Sydney
Feb 22 Hope Estate, Hunter Valley
Feb 23 Hope Estate, Hunter Valley
Feb 26 Brisbane Entertainment Centre
Mar 01 Mt Smart Stadium, Auckland
Mar 02 Mt Smart Stadium, Auckland
The Ghost of Tom Joad – with Tom Morello
To finish off here is an incredible video of Bruce Springsteen with Tom Morello playing in Madison Square Garden. This is the same version they played last night in Perth. Enjoy!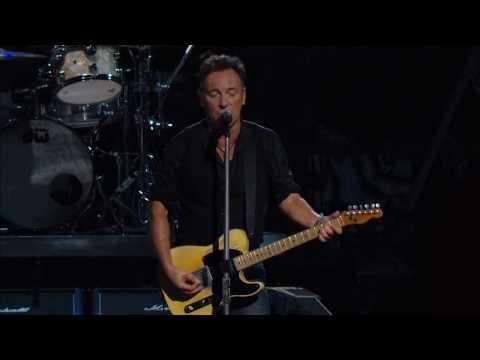 Go and see The Boss
Bruce Springsteen brings joy to people. He cares, he delivers, and he is worth every moment, every cent, every memory you get from it. I have carried a happy memory for 29 years of seeing him in 1985. This time around, at Perth Arena 2014, Bruce Springsteen was even better!
Do yourself a favour: Go and see Bruce Springsteen and The E-Street Band. Rock and Roll history will record him as one of the all time greats. The Bruce Springsteen Australian Tour 2014 will be remembered as an iconic Roch'n'roll event.
A special hello to the people from BruceSpringsteenPerth.com who arrived in droves at the concert.