How would you like to make A Fistful Of Dollars? Make it $1,000 to be specific. If you don't already know about the $1,000 commenting reward, now could be a good time to get up to speed.
Do you want to Make $1,000 without investing 1 cent?
Do the words: "No Catch" sound great? Because there is No Catch!
Does a GRAND PRIZE of a substantial value sound exiting? (that is much more that $1,000)

I am giving away $1,000 AUD to the person that makes the most comments on this blog (SeanRasmussen.com) for the month of March 2010. There are some simple and fair rules to be followed and I have listed the rules here.
How To Make A Fistful Of Dollars
Here is a video to make it easier for you to participate and win. There will also be further video's to outline some tips and tricks for beginners who may not necessarily know everything about blogs, comments, social media and web 2.0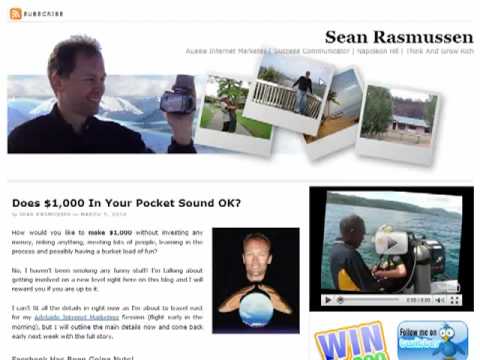 I will make more vids during the week. Meanwhile, join in on the action. This list will help you get started: (remember there is a GRAND PRIZE for the overall winner at June 30 – 2010)
Join the Facebook Fanpage: Sean Rasmussen Talks.
Read the $1,000 Rules to make A Fistful Of Dollars.
Comment on SeanRasmussen.com (this blog).
Leave a comment or feedback on Facebook: SeanRasmussenTalks.
Follow the rules and the person with the most comments will collect 1,000 Dollars
There are 100's of posts on this blog to comment on. This could be the easiest $1,000 anyone has ever made.
I will issue lots of additional prizes.
The GRAND PRIZE for most comments by June 30 – 2010 is going to be an absolute CRACKER!
It will be a barrel load of fun and you will learn heaps in the process!
Have fun, enjoy and may the best and fairest person win A Fistful Of Dollars in true Clint Eastwood fashion!
Sean Rasmussen
Success Communicator
Aussie Internet Marketer © 2004 – 2010